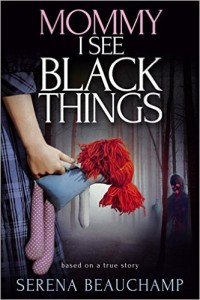 Book 2, Mommy I See Black Things
A true story…
"Mommy, I see black things." Her daughter's simple words struck horror into Serena's heart. Was Ana suffering from childhood schizophrenia or something far more sinister?
Things are not always as they may appear for children who claim to hear voices or see beings that are not visible in the natural world. Though challenging to consider, some individuals have been equipped with a sense of spiritual discernment so profound they can see and/or hear spectral beings in the supernatural realm. Unless managed correctly, this ability can feel like a curse because they are constantly harassed by terrifying entities they may see or scary voices they may hear.
Fear not, there is hope! This true story of a little girl who went from orphan to warrior illustrates how the besieged individual can find peace and stand firm against direct demonic attack as well as insidious supernatural harassment.
READERS RESPOND…
"Serena Beauchamp is an amazing and inspired writer. If I had been armed when I was younger with the wonderful and practical advice for spiritual warfare she shares in her book, it would have made a huge difference in my life." MN, California
"I couldn't put this book down! Once you read Ana's story, you will forever see the world differently." SA, Florida
Buy it here at Amazon.com!