If you are completely happy with your current doctrinal beliefs and feel that the view you currently hold of God is correct in every detail, then put this book down now. It is not meant for you. Why? Because if you read The God Yeshua Knew all the way through to the end, you will never look at your religion – or our heavenly Father – in the exact same way again. There are some bells that cannot be unrung; some songs that cannot be unsu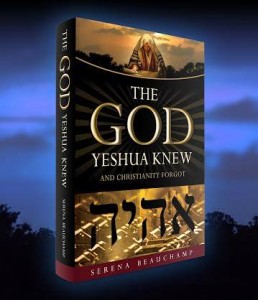 ng, and some journeys that cannot be unbegun. The God Yeshua Knew is one such bell, song, and journey. After finishing The God Yeshua Knew, you will either love what you find because you will recognize the TRUE Heart of your Father, or you will hate what you read because it challenges your current paradigm. But the one thing you will not be is indifferent. Ronald Reagan once said, "The future does not belong to the light hearted. It belongs to the brave." Are you ready to be brave?
(THIS BOOK HAS THE SAME CONTENT AS "THE GOD JESUS KNEW", BUT USES THE NAME "YESHUA" INSTEAD OF "JESUS".)
Buy it here on Kindle at Amazon.com!
Or buy the printed version here. Enter the discount code AKVSXS4T for $3.00 off your purchase!