Book 1, Monsters In Your Head:
Based on a true story…
Shaynie was bo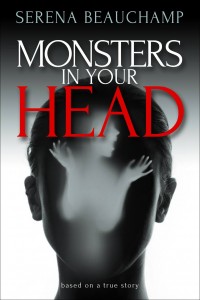 rn to be a satanic priestess. In preparation for her destiny she is tortured and brainwashed until her mind splits into a thousand pieces. Although her fractured psyche is a playground for demons, her heart longs for something more than the torment she has endured for so long. Will she ever learn to trust when all she has known in the past is fear and abuse? Can she allow comforting bonds of love to replace violent ties of blood?
Monsters In Your Head is a horrifying yet ultimately inspiring story of friendship and deliverance. You will be awestruck by the bravery Shaynie shows in the most trying of circumstances. You will see the Hand of God deliver her from the terror that walks by night, and you will rejoice to watch her discover a world where love is the currency and evil is finally restrained. 
Buy it here at Amazon.com!